Best ways to protect your airbnb in Utica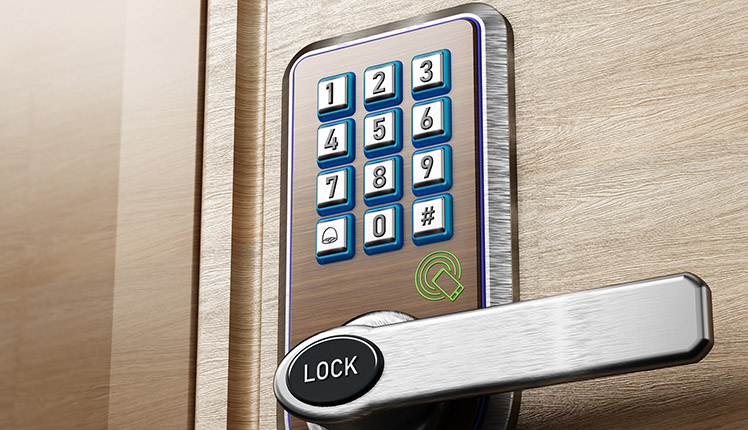 Whether you lease out your family's cottage or you own an assortment of Airbnbs, it can be challenging to protect your rental properties in Utica. With physical keys going to different renters, it's simple to worry about vanishing valuables or former renters arriving out of the blue. Not to mention, what would you do if there's a flood or fire at your rental unit while it's being leased?
From smart door locks to comprehensive security with home automation, here are some helpful tips on how to protect your Airbnb in Utica.
Say goodbye to traditional keys with smart locks
When a guest vacates the premises, they may leave the keys behind for the following inhabitant. On the other hand, if they grabbed or secretly made copies of a key, they could access your place again sometime in the future. Of course, you might change the locks if a key is "misplaced", but that is not a timely or cost-effective solution.
Thankfully, you can put in smart door locks that operate in conjunction with your security system to put these concerns at ease. Then, you can provide each visitor their own unique entry code. When your occupants depart, don't worry about an exchange of keys. All you need to do is customize the codes to no longer work when they're gone. If former occupants return and make an attempt to enter with their old code on the door, you will be alerted with a message of a failed entry on your smartphone.
A smart security system makes available rentals look occupied
Of course, you hope that your Utica rental property will be occupied, but that won't always be the case. Despite this fact, you should strive to make it seem that guests are there so your place isn't a potential target for burglars. Installing a security system with home automation affords you the opportunity to benefit from smart lights, motion sensors, and surveillance systems that make your lodging appear lived-in.
Start by scheduling some lights to switch on at particular times of the evening. Then, use your cell phone app to alert you if your exterior cameras spot an unwanted guest prowling in the dark or walking toward your main entrance. You have the opportunity to take advantage of the talk feature to make them know you can see them or set your smart lights to automatically illuminate when a surveillance device or motion detection equipment uncovers something unusual.
Protect your Utica Airbnb with 24/7 monitoring
Your renters will have more peace of mind if they are safeguarded from criminals, especially when Utica is unfamiliar territory. In the event a robber attempts to gain entry, your home security system will not only sound a siren but will also ping your 24/7 monitoring agents. Now, no matter where you are, emergency services will be dispatched. Your monitoring agents can even act as your point person and communicate with you when you're available.
Along with home invasions, your monitoring team can be connected with fire alarms, water sensors, and carbon monoxide detectors. It would be understandably harrowing for your guest if flooding occurs or something catches fire. Not only will you receive a phone notification that a potentially dangerous event has occurred, but the monitoring agent will also coordinate emergency services while you're in transit.
Request a modern home security package in Utica
The first step in protecting your Utica rental property is to invest in a home security system. Fortunately, Vivint has popular choices like smart lights, smart door locks, and 24/7 monitoring. Contact us today and our security specialists will personalize a system that makes sense for your property. Call (315) 819-0721 or fill out the form today!
Cities Served Around Utica By Smart Security Specialists Your Local Vivint Authorized Dealer